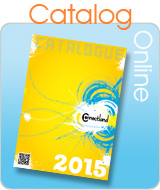 Who are we ?
Since 1999, Connectland has created a huge variety of high performance network cables.
Thanks to its success, the company has expended, proposing a larger and larger variety of peripherals. First, by increasing the number of network peripherals, and then by proposing ranges of keyboards, mice, card readers, external cases, multimedia devices, etc...
Connectland carries on expending its offers in order to meet perfectly your requirements.
Our strength is to supply our well-known high quality brand name and with very competitive prices.