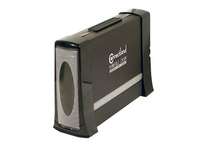 COMBO USB2.0 & FIREWIRE IEEE1394A 5.25'' HDD EXTERNAL CASE
Code : 1909016   BE-COMBO-2518C
Gencode : 3700284603504
This elegant external enclosure is suitable for 5¼'' PATA-IDE optical drives such as
drive/burner DVD and 3½'' PATA-IDE hard disk. It is has a black color design in aluminum with plastic lateral stripes and Plexiglas front panel. You can carry it everywhere thanks to its handgrip.
You can install it horizontally or vertically. It is delivered with 1394A cable and USB cable.
Page 1/1
---