Code : 2005128   ALIM-NB-L090-USB
Gencode : 370028461538
Slim format with 2A USB port to charge smarphone, PC tablet, iPAD®
Compatible with15V-16V-18V-18.5V-19V-19.5V-20V notebook computers
12 convertible DC output tips included
Code : 2005129   ALIM-MP003
Gencode : 370028461554
4400 mAh backup battery. Autonomy of 3 to 8 hours depending the peripheral
Built-in flashlight. Delivered with 3 different power supply connectors
Compatible with most of mobile phone, smartphone, MP3 player, Tablet PC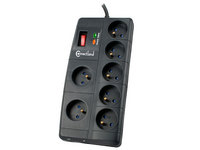 Code : 1403013   BS-S9P708AVT5
Gencode : 3700284614302
Protects computers, computer peripheral and electronic products
from overvoltage, voltage surges
7 outlets power surge protector of which 2 for cumbersome product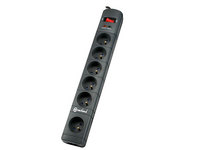 Code : 1403012   BS-S9P621AVT1
Gencode : 3700284614296
Protects computers, computer peripheral and electronic products
from overvoltage, voltage surges
6 outlets power surge protector of which 1 for cumbersome product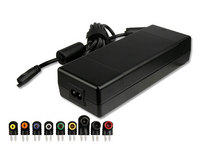 NOTEBOOK COMPUTER POWER SUPPLY 19 V – 120 W
Code : 2005126   ALIM-NB-AX120
Gencode : 3700284614197
Compatible with notebook computers
9 convertible DC output tips included
Mini size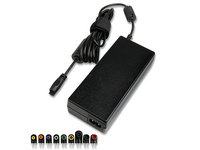 NOTEBOOK COMPUTER POWER SUPPLY 19 V – 90 W
Code : 2005125   ALIM-NB-AX90
Gencode : 3700284614180
Compatible with notebook computers
9 convertible DC output tips included
Mini size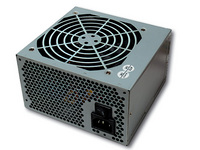 Code : 2005124   ALIM-AX350-60HHN
Gencode : 3700284612773
Active PFC and 80 PLUS norms
Quiet 12x12 cm fan
ATX 12V v2.3/v2.2/v1.2 in 20/24 pins
Power supply PCI EXPRESS 6 pins and SATA connectors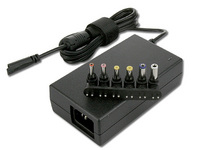 LCD MONITOR POWER SUPPLY 12 V – 60 W
Code : 2002101   ALIM-LCD-060
Gencode : 3700284610717
Compatible with 12 V LCD monitors
6 convertible DC output tips included
Delivered with travel bag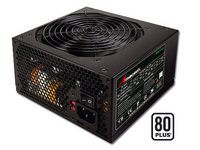 Code : 2005122   ALIM-AX500-80EN
Gencode : 3700284611806
PFC and 80 PLUS norms
Quiet 12x12 cm fan
ATX 12V v2.2/v1.2 in 20/24 pins
Power supply PCI EXPRESS 6/8 pins and SATA connectors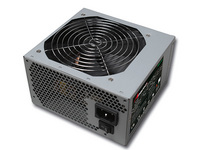 Code : 2005121   ALIM-AX350-WP
Gencode : 3700284611790
PFC norm
Quiet 12x12 cm fan
ATX 12V v2.2/v1.2 in 20/24 pins
6 pins PCI EXPRESS and SATA power supply connectors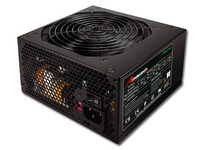 Code : 2005115   ALIM-AX400
Gencode : 3700284609537
PFC compliant
PCI EXPRESS and SATA connector
12x12 cm fan
ATX V2.2/v1.1 with 20/24 pins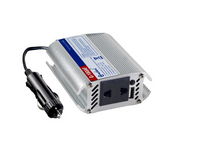 180 W 12 V DC / 220 V AC CAR POWER INVERTER
Code : 2002084   ALIM-G180AF-180
Gencode : 3700284606338
Plug to your cigar lighter
USB port to recharge your USB powered device
Internal fan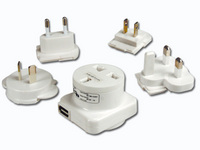 USB TRAVEL CHARGER AND UNIVERSAL TRAVEL POWER ADAPTOR
Code : 0301508   AD-UNIVERSEL+USB
Gencode : 3700284608516
Change your electrical power plug type
Delivered with 4 connectors : US – UK – Australia - Europe
USB port for USB powered device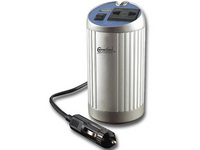 150W 12V DC / 220V DC CAR POWER INVERTER
Code : 2002096   ALIM-T150AF-150
Gencode : 3700284609872
150 W 12 V DC / 220 V AC car power inverter
Connect to the cigarette lighter of the car an electrical peripheral and charge USB peripheral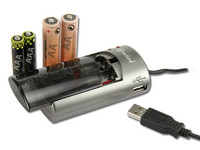 Code : 3803005   CHG-USB-CH005
Gencode : 3700284603726
This charger enables to charge up to 2 rechargeable batteries AA/AAA Ni-MH / Ni-Cd via USB port
Time charge is up to 1.5 hours depending the battery power.
The charger has two LED indicators to check if the charge has begun or if the charge is finished.
Moreover it has one extra USB port to connect USB peripheral.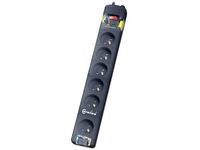 UK : Barrette secteur 6 prises avec protection surtension et parafoudre
Code : 1403005   BS-S9P621QT1
Gencode : 3700284604075
UK : Barrette secteur 6 prises avec protection surtension et parafoudre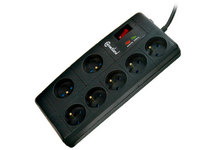 Code : 1403006   BS-S9P708QT5
Gencode : 3700284605478
Heavy duty power cord
Resettable circuit breaker
Surge protected indicator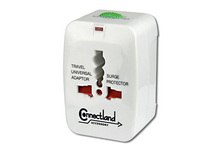 Code : 0301515   AD-UNIVERSEL-931L
Gencode : 3700284608585
Connect your electrical appliance everywhere around the world
4 output electrical power connectors integrated for US-UK-Australia-Europe
Support up to 10 A and 250 V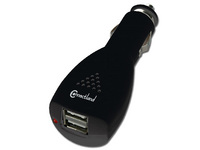 Code : 0301111   AD-ALIM-CIGARE-2USB
Gencode : 3700284607625
Use your car to charge any devices (digital camera, PDAs, mobile phones, USB accessories and many more) that can rely on USB for power. (Only 5V and 850 mA max.)
Plug into cigarette lighter socket of your car and plug your peripheral USB connector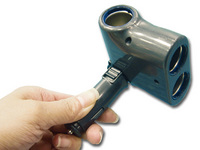 Code : 0301115   AD-ALIM-CIGARE-MULT
Gencode : 3700284606086
A convenient three-hole-socket for your additional electronic devices 90° swiveled socket design allows the multi-socket to work in multiple directions Sockets with a fuse protection up to 7 Amps For DC 12V car use only To be used in a car with 1 cigar lighter
---